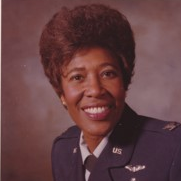 African American Heritage Society
Col. Mary Boyd earned a diploma in Nursing from the Medical College of VA; a BSN from the University of Nebraska; and a MSN from the University of California, San Francisco. She entered active duty with the U.S Air Force in October 1958 and had an outstanding military career which included a three year tour with Headquarters USAF Inspection and Safety Center, Norton AFB, CA, where she was the first nurse to serve as Interim Chief of a Medical Inspection Team. Following that tour, she was selected as Chair, Dept. of Nursing, Malcolm Grow USAF Medical Center, Andrews AFB. Locally she served on numerous boards including former President George Bush's appointment to the Advisory Committee on Women Veteran's Affairs; former Maryland Governor Schafer appointed her Commissioner for the Maryland Veterans Home in Charlotte Hall, MD; she was appointed by Senator Mac Middleton to the 28th Legislative District Senatorial Scholarship Committee in 1995; from 1989 to 2007 she served as the College of Southern Maryland's Special Projects Coordinator and Executive Director of Diversity and Equal Opportunity; she served on the Board of Directors for the Conservancy of Charles County; and was a former president of the African American Heritage Society of Charles County, Inc. where she was instrumental in the acquisition of its Heritage House, located in La Plata, and its renovation in 2009.
Impact
The Col. Mary R. Boyd Memorial Nursing Scholarship has been established by the African American Heritage Society of Charles County to help nursing students at the College of Southern Maryland who are veterans or are traditionally underrepresented in their field of study.