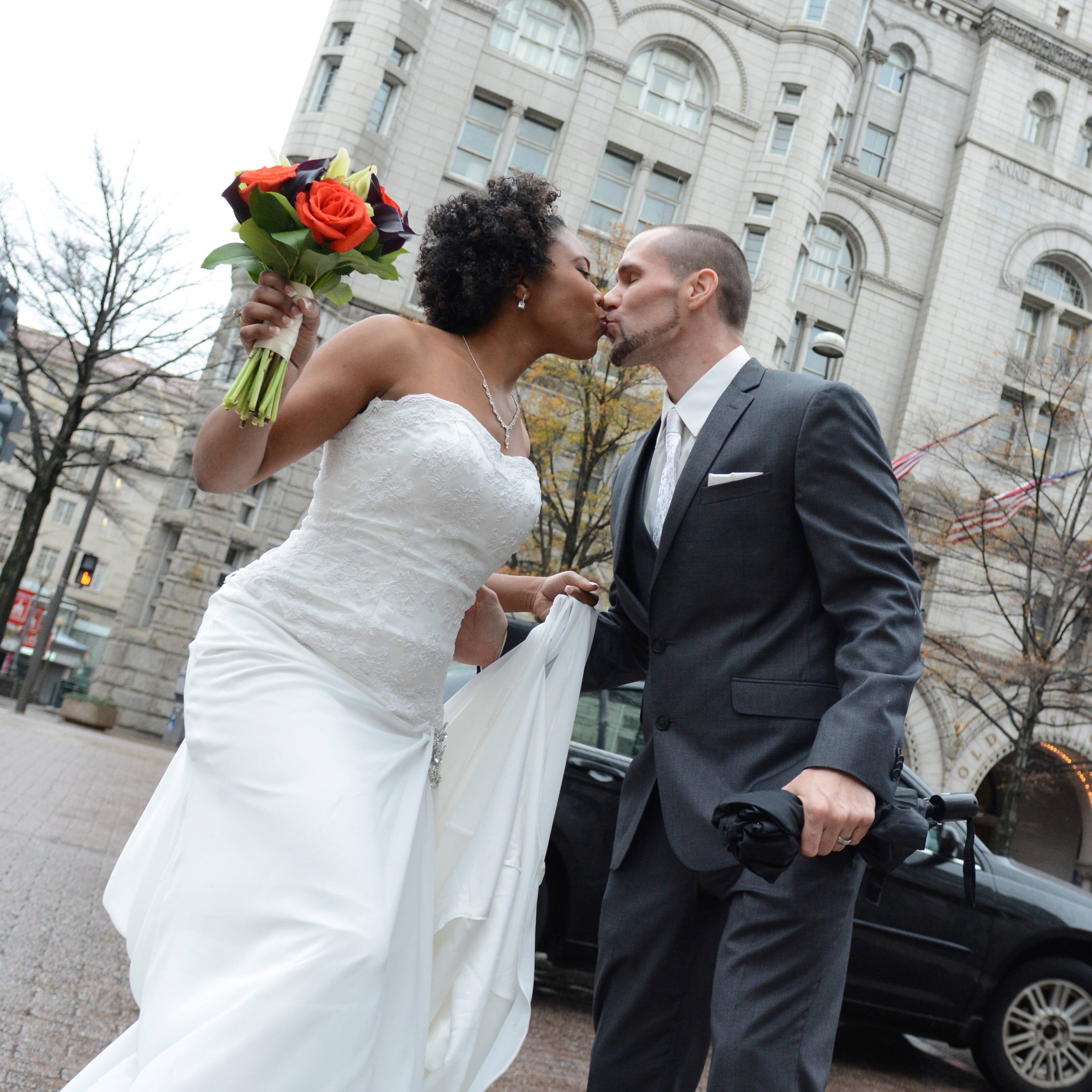 James Graves and Jennifer Lesesne
CSM Alumni James Graves '02 and Jennifer Lesesne '04 and '05 both former CSM employees are practicing believers of lifelong learning. James and Jennifer met at CSM in 2002. Although they found themselves on different paths for many years, the "universe" had other plans. Married in 2014, James and Jennifer blended their family which includes: their 10-year-old daughter, Ava; 19-year-old daughter & CSM alum, Bianca '20; and 25-year-old son & CSM alum, James '18 – and two very spoiled dogs, Chaos and Rambo.
James' career has always been focused around technology and IT, spending 20 years working in various ways to support the CSM infrastructure. He began as a student assistant working at the Help Desk and later transitioning into Systems and Network Administration. During the journey, James found himself juggling the role of a single parent, full-time student and full-time employee. He also discovered a true passion for Cyber Security where the focus was on ethical hacking and digital forensics. After completing his Masters', CSM provided an opportunity to develop and instruct courses with a concentration on Cyber Security and Networking technologies. Once in the classroom and building educational resources, James realized he possessed a strong passion for instruction and giving back to his community. Following his 7 years in Instructional work, it was time to expand outside of CSM and challenge himself further in the Cyber field. At this time, he works for the Navy Department of Defense as well as an adjunct faculty member at University of Maryland Global Campus. However, James says the pathway ultimately leads back to the classroom as "in that environment, I learn as much from my students and peers and I feel I am able to return; the ecosystem is supportive and very rewarding".
Jennifer, a native Washingtonian, spent many of her years living in various areas of Maryland. Just like James, Jennifer experienced similar trials and tribulations along her journey to arrive where she is today. Her educational background includes: three associates degrees, Bachelors of Science, two certificates (Management Foundation and Human Resource Management), M.B.A, licensed real estate agent and an assortment of certifications and designations in the real estate industry. Jennifer's affiliation with CSM spans over nearly 20 years. Jennifer continues to serve the college community as an adjunct faculty member. While working at the college, Jennifer was the owner of Jenil Event Planning LLC for five years before deciding to explore other ventures. As a former event planner, budget manager and supervisor of 10+ years, Jennifer found the transition into real estate to be smooth and very familiar. Utilizing skill-sets from her professional career, Jennifer understands the power of excellent negotiation skills, organization, time management, creative approach to problem-solving, contract management, and most important, good communication and people skills. Acknowledged for her business acumen, integrity and charismatic style, Jennifer's traits were a natural fit for her transition into the competitive real estate market. Jennifer now takes pride in assisting her clients with their real estate goals, building her real estate investment portfolio and growing her property management business with her business partner. As with her real estate business and clients, Jennifer values the opportunity to encourage students to keep pressing forward, regardless of their current circumstances and believes this scholarship enhances students chances to open new doors in their lives.
Impact
Life has a way of throwing curveballs. This scholarship is for student's in the business and IT field who, need a second chance, financial support, motivation to keep going, but most important, determination to succeed. James and Jennifer have both been single parents, divorcees, and working full-time and ran a business, while pursuing their education. They get it. JLG Dream Investments scholarship is here to invest in your educational dream so your degree, certificate, or license can help propel you where you want to be in the future.